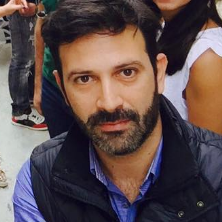 Savvas A. Chatzichristofis (Σάββας Χατζηχριστοφής) pursued the Diploma and the Ph.D. degree (with honors) both from the Department of Electrical and Computer Engineering, Democritus University of Thrace, Greece, in 2005 and 2010, respectively.
Currently, he serves as an Associate Professor at the School of Informatics at the Neapolis University Pafos (NUP), Cyprus. In past years, he has served as Adjunct Lecturer at Cyprus University of Technology (CUT), as well as a senior researcher at the Centre for Research and Technology Hellas (CE.R.T.H.), Information Technologies Institute (I.T.I.). Moreover, he has served as a Visiting Professor for teaching and research cooperation at Institute for Information Technology (ITEC) at Klagenfurt University in Austria. During his career he has been involved in several EU FP6, FP7 and H2020 Research & Development projects as researcher, technical scientific manager and co-coordinator.
His research is mainly focused on Cybernetics and Artificial Intelligence together with their applications in the fields of Computer Vision, Multimedia/Multimodal Retrieval, Robotics, Optimization and Pattern Recognition (forensic and industrial applications). Savvas A. Chatzichristofis has over 10 years of solid experience on information technology, with emphasis on topics related to multimedia information retrieval systems and machine vision, reporting more than 70 publications in these fields. In total, these publications have accumulated more than 1900 citations as recorded by Google Scholar, giving an h-index of 19. Most of his publications are available on-line, some with accompanying software, source code and datasets.
Additionally, as a computer programmer, he has developed several popular software tools for a number of fields including multimedia, information retrieval, information management and monitoring. Indicatively, he is one of the contributors to the LIRe library, the img(Rummager) project, the Houdini MC platform etc..
Over the course of his carrier, he has received numerous grants, scholarships and awards, including, the best paper award at the ICAART-2010, the best paper award at the ICCGI-2010 as well the best paper award at the EUREKA-2010 conference. Additionally, he was finalist for the IROS-2012 best video award.
Furthermore, he has served as reviewer for scientific journals in the area of artificial intelligence, image processing and multimedia (e.g IEEE Transactions on Multimedia, IEEE Transactions on Evolutionary Computation, IEEE Transactions on Intelligent Transportation Systems, IEEE Transactions on Robotics etc.) as well as reviewer and member of program committees of several international conferences/workshops (e.g. IEEE IROS, IEEE ICRA etc.). Moreover, he has given numerous talks during conferences, at universities (as visiting professor), at schools and in the industry.
Outside of academia, he is interested in games, comics and Sci-Fi novels. He is an Escape Room enthusiast and he travels around the globe to play 😉 In his free time, he writes children's books and short stories. His first children's book (in Greek) is currently freely available here 😉
---
News:
01-January 2017 – Visiting Lecturer at Klagenfurt University – Austria
21 December 2016 – Our paper "Dynamic two-stage image retrieval from large multimedia databases" is one of the 5 most highly cited papers published in Information Processing and Management [Read More]
15 December 2015 – Read an article in "Cypriot Scientists and Engineers" describing the NOPTILUS project and my contribution to it. [Read More]
14 October 2015 –  Accepted journal paper ("REAL-TIME ADAPTIVE MULTI-ROBOT EXPLORATION WITH APPLICATION TO UNDERWATER MAP CONSTRUCTION", «Autonomous Robots», IF: 2.066, Springer)
26 June 2015 –  Accepted journal paper ("WHAT, WHERE AND HOW? INTRODUCING POSE MANIFOLDS FOR INDUSTRIAL OBJECT MANIPULATION", «Expert Systems with Applications », IF: 2.240, Elsevier)
28 January 2015 – Photos from my visit in primary school in Limasol. Teaching "Robotics: Principles and Applications" to children aged 10.  
01 Nov 2014 – Read an article in a local newspaper describing the NOPTILUS project and my contribution to it (in greek). [Φωνή της Πάφου]
19 May 2014 – Accepted journal paper (HOW SMART ARE THE SMARTPHONES? BRIDGING THE MARKETING AND IT GAP, «IEEE Consumer Electronics Magazine», IEEE)
14 Mar 2014 –  Accepted journal paper ("VISION-CONTROLLED MICRO FLYING ROBOTS: FROM SYSTEM DESIGN TO AUTONOMOUS NAVIGATION AND MAPPING IN GPS-DENIED ENVIRONMENTS", «IEEE Robotics and Automation Magazine», IEEE)
11 Sep 2013 – Accepted journal paper ("A MULTI-OBJECTIVE EXPLORATION STRATEGY FOR MOBILE ROBOTS UNDER OPERATIONAL CONSTRAINTS", «IEEE Access», IEEE)
| | | |
| --- | --- | --- |
| | Print article | This entry was posted by on at , and is filed under Uncategorized. Follow any responses to this post through RSS 2.0. Both comments and pings are currently closed. |